Chain Drive Openers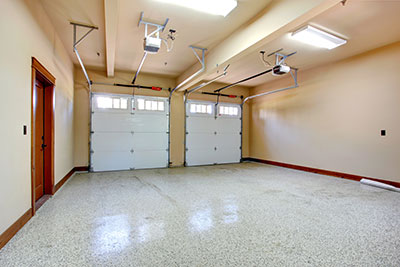 Even though the mass production of chain drive openers did not begin until after the end of World War II, the first device of this kind was created in 1926. This is the most widely used type of garage door opener to this day despite the growing popularity of the belt drive and screw drive devices. Each chain drive device is based on a system of components.
The power unit of the opener houses the electric motor. This unit is mounted directly on the ceiling of the garage. A rail extends out of this unit and goes all the way to the wall above the overhead door. The chain goes around the rail and around a moving gear set inside the power unit. It is made from tough steel and is similar in design to a bicycle chain. There is a trolley which is attached to the chain on one side and to a moving arm on the other. The moving arm is connected to the top section of the door and its job is to link the door with the opener system.
Trust Our Team for the Best Chain Drive Opener Installation

When the chain drive opener is operated via a garage door clicker or a wall-mounted button, the motor is engaged first. The motor begins to rotate the gear which in turn begins to move the chain along the track. As a result the trolley is moved and the entire door is operated. When the overhead garage door is opened, the trolley is pulled back via the chain. When the unit is closed, the trolley is driven forward by the chain.
The chain drive openers are traditionally durable and dependable. They operate optimally in practically any weather conditions and the chain is lubricated so the friction between it and the rail is reduced. This allows for noise reduction as well.